How to defeat this Level. My Hero is Bresker with HP 1110 + Two Basic Spells + Evil Bone Blade

Units Level

Trolls Lvl 6
Archer Lvl 6
Shaman Lvl 3
Wolf Rider Lvl 4
Mage Lvl 5
Iron Wheel Lvl 3
Priest Lvl 3
Archangel 1
Troll Cyborg 1

Thanks in advance
Footman





Posts

: 14


Gold

: 24


Mojo

: 10


Join date

: 2012-10-09



I am stuck on the same one
same here

mine is a succubus 860hp, 28atk, 7def
i have fireblast, scourge of doom, sorrow smash
footman 6, troll 4, archer 5, knight 3, priest 6, mage 4, wolf 3, shaman 3, ironwheel 3, archangel 2, cyborg 1
Footman





Posts

: 2


Gold

: 2


Mojo

: 10


Join date

: 2012-10-21



I have a full crazy set and vibro sabers. I won with full footmen, trolls, footmen, mages, archangels, but one is a hero hugging the wall with shamens in back. Maybe priests of hero is lame.
Crazy

I am a little confused on your formation could u post it like this

X X X X X X
X X X X X X
X X X X X X
X X X X X X

etc

thank you in advance
I'll post pics. I was going to before but I was already in bed. Give me about 3 hours as I'm out with family right now.
That's my formation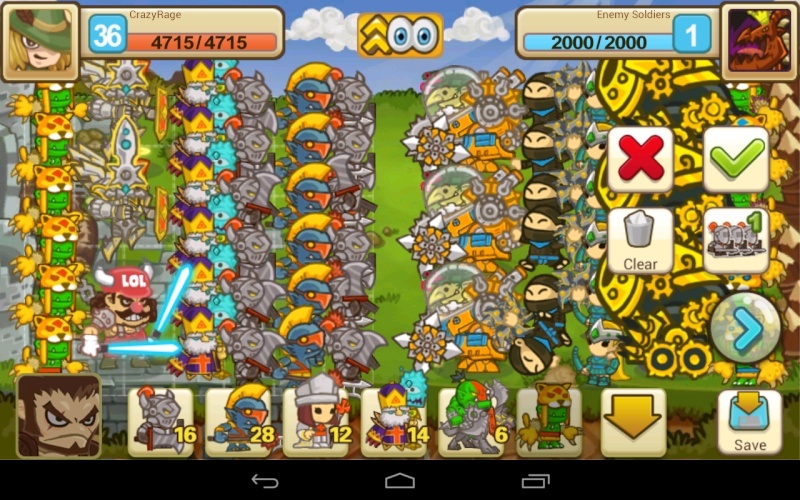 That's the end LOL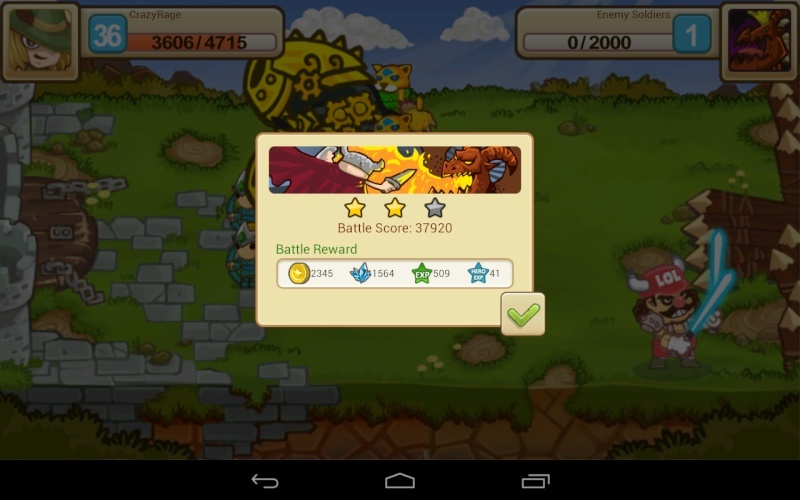 Berserker stats - HP: 1160, Attack: 69, Defence: 7
that worked!!!!

Everyone died but hero and I was able to kill castle. thank u!
HERO SHAMAN ANGEL MAGE MAGE
HERO SHAMAN ANGEL MAGE MAGE
IRON WHEELS SHAMAN ANGEL MAGE MAGE
IRON WHEELS SHAMAN ANGEL MAGE MAGE
IRON WHEELS SHAMAN ANGEL MAGE MAGE
IRON WHEELS SHAMAN ANGEL MAGE MAGE

worked for me

Hero = Berserker
HP = 1235
Attack = 44
Armor = 5
Footman





Posts

: 1


Gold

: 1


Mojo

: 10


Join date

: 2013-01-06



---
Permissions in this forum:
You
cannot
reply to topics in this forum